OUR FAIRFAX LOCATION IS IN A NEW UPDATED SPACE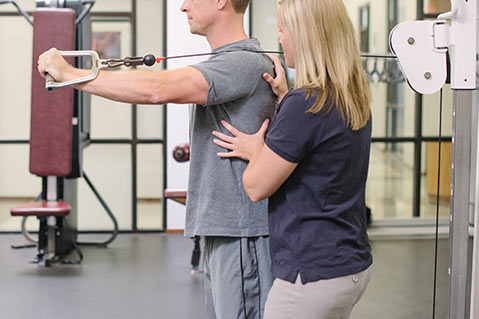 Call 703-383-1616 to Schedule an Appointment
Proudly owned and operated by physical therapists. We provide quality orthopedic and sports physical therapy to return you to the highest level of performance in life and on the field.
MISSION
At Excel Rehabilitation our goal is to provide excellent outpatient orthopedic and sports physical therapy services for the treatment of musculoskeletal injuries. Our team of highly competent and caring licensed physical therapists works expeditiously toward the goal of returning an injured individual to the highest possible level of function and athletic performance. Our facility features private treatment rooms and a full-sized fitness center, complete with Nautilus machines, free weights, and a full line of cardiovascular equipment. At Excel we are 100% committed to patient care.
DIRECT ACCESS
In Virginia you can seek treatment from a physical therapist without having to first be seen by a physician or other healthcare professional. This can eliminate a delay in care and help get you on the road to recovery sooner. Your physical therapist is qualified to refer you to the appropriate physician and make recommendations on which ones best fit your needs.
LOCATIONS
Fairfax, VA
10521 Rosehaven Street, Suite LL150
Fairfax, VA 22030
map of location
24585 Stone Carver Dr.
Suite 275
Aldie, VA 20105
map of location


From Our Facebook Page
Telehealth
In an effort to continue to serve our community in a safe, convenient, and effective manner; we at Excel Rehabilitation are now able to provide physical therapy via telehealth. While it is not appropriate for all diagnoses, we are doing whatever we can to help our patients reduce pain, improve function/mobility, and get back to their lives.
Telehealth physical therapy uses technology to deliver an in-person treatment experience at a distance. Telehealth physical therapy is comparable to out-patient physical therapy in both its delivery and the breadth of orthopaedic conditions that your physical therapist can treat.
The goals of your telehealth physical therapy session are no different than those of any other outpatient physical therapy here at Excel Rehabilitation:
Get you out of pain.
Improve your strength, flexibility, and range of motion.
Optimize your physical daily function.
Learn more about our telehealth program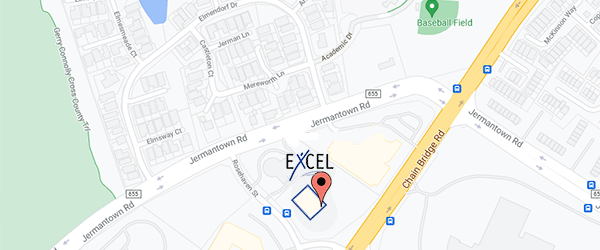 view larger Fairfax map on Google
Distance to Fairfax location from:
Chantilly: 15 minutes
South Riding: 20 minutes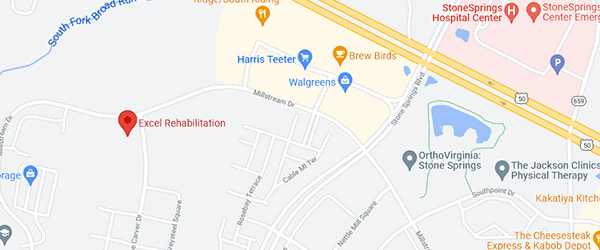 view larger Aldie map on Google
Distance to Aldie location from:
Chantilly: 10 minutes
South Riding: 5 minutes
Fairfax, VA
10521 Rosehaven Street, Suite LL150
Fairfax, VA 22030
map of location