Our Location in Aldie, Virginia
We are pleased to be serving the areas of Aldie, South Riding, Ashburn, Chantilly, Sterling, Middleburg, Haymarket, and Leesburg with our new state of the art physical therapy clinic in Aldie, Virginia. Our office is conveniently located in the Stone Ridge community, behind the Stone Ridge Village Center. Specialty interventions offered at this location include Sportsmetrics: Knee Injury Prevention and Functional Dry Needling. Services will include pre and post-surgical rehabilitation, orthopaedic and sports physical therapy, treatment for repetitive stress and all other musculoskeletal injuries, and injury prevention.
Certified physical therapists Duncan Gerhard, Betina Pierce and Rachel Herrmann have advanced degrees and specialized training in such areas as orthopedic assessment, manual therapy, athletic training, and sports medicine.
From Our Facebook Page
Sportmetrics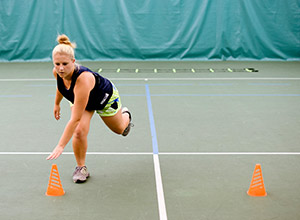 ACL injury prevention and performance enhancement.
Sportsmetrics™ is a scientifically proven, six-week jump training program that incorporates proper stretching, special plyometric exercises, and weight training. It focuses on developing overall leg strength as well as improving balance in strength from the front to the back of the thigh.
Training Sessions
Offered by Board Certified Physical Therapists & Sportsmetrics Certified Trainers through Excel Rehabilitation at the Fairfax Racquet Club, your child's school, or other assigned facility. Group/Team or individualized training available.
Return to Play
A program catered to athletes recovering from an injury or surgery to ensure they are ready to return to sport.
Read more about Sportsmetrics.

date TBA